Description
The Air incline is a great help for methodical training like learning rolls forward and backwards, flick-flacks and more. Functions as a run-up when connected to Airtracks.
In contrast to a standard springboard the Air Incline has no sharp edges or hard corners. This means fewer risks and less injuries.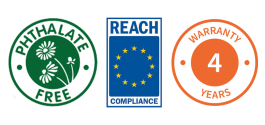 Made out of the same strong and safe materials that are produced under the European REACh norms. Soft and matte finish.
Inflation and deflation within 30 seconds. Because of the lightweight it's easy to move around for in- and outside usages. Stays inflated without the use of continuous blower feed, noise free training.