Trampoline parks are rapidly growing in numbers across the world. So is the increasing adaptation of Airtracks to these parks creating new experiences. Our latest invention is a 'world's first' which offers completely new dimensions and possibilities to trampoline parks: the AIRTRACK PARK.
Does your park need an upgrade, looking for flexibility, want to attract a new type of customer, eager to surprise current visitors with a new and innovative part in your park?
Stop searching any further, Airtrack Park is the solution on how to make and keep your park attractive, unique and challenging for the largest possible audience.
Introducing
Airtrack Park
The entire Airgym Airtrack Park consists of multiple interconnected 'Airtracks', these are airtight training products on which you can practice your skills safely. We have developed this park especially for kids and recreational jumpers who want to learn how to freerun in a safe and fun way.
With Airfloors forming the base, we used our patented bending technique to integrate Air Tunnel blocks as obstacles in the floors to create a freerun landscape. By adding Airtrack tumbling mats or other air products, Airtrack Park is also perfectly suited for many other sports such as: gymnastics, breakdancing, tumbling and tricking.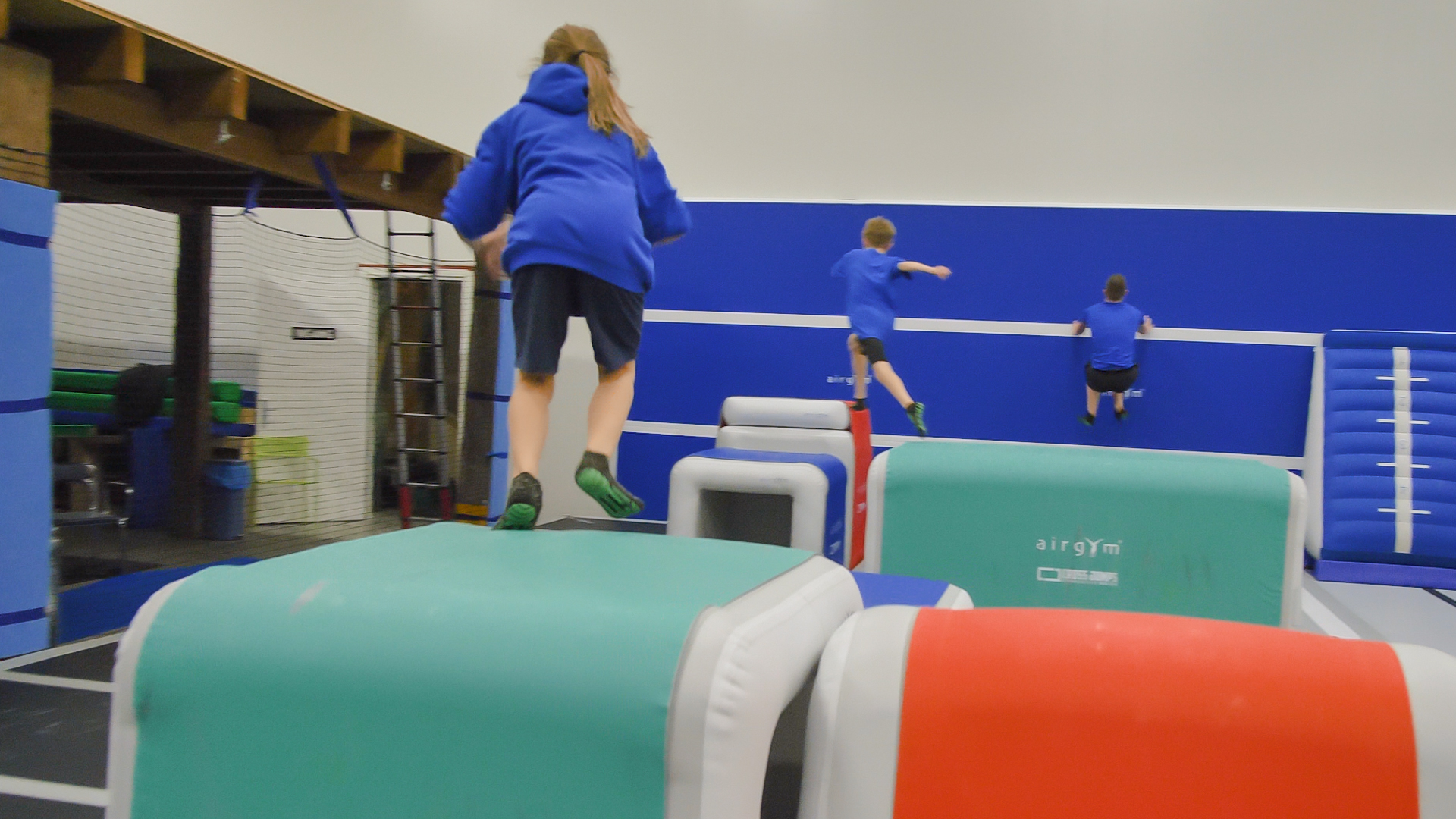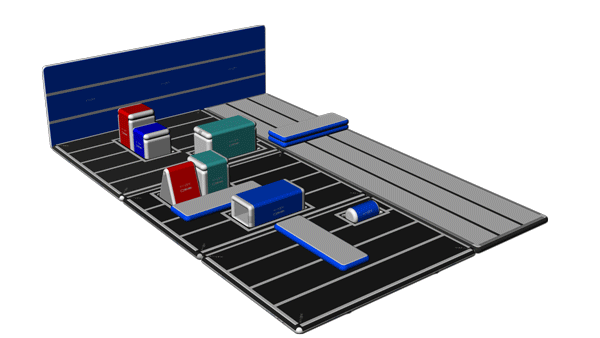 The set-up is completely modular which means it can be rearranged easily to create new landscapes within minutes.
The special velcro strips on top of the floors surfaces allow flexibility in placing additional equipment (eg. Air Blocks, Air Inclines) randomly but firmly all over.
Flexibility
in activities
Airtrack Park is not only adaptable to the skills level of the group that will jump on it,
but you can also build new training situations every now and then. This ensures Airtrack Park stays interesting, also for people who regularly jump on it.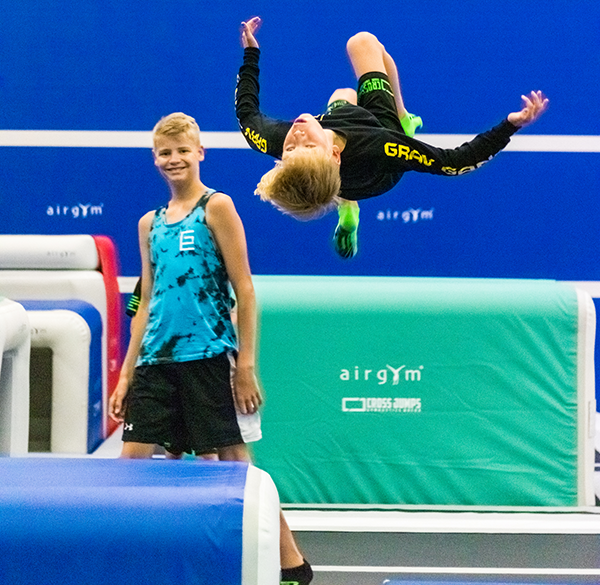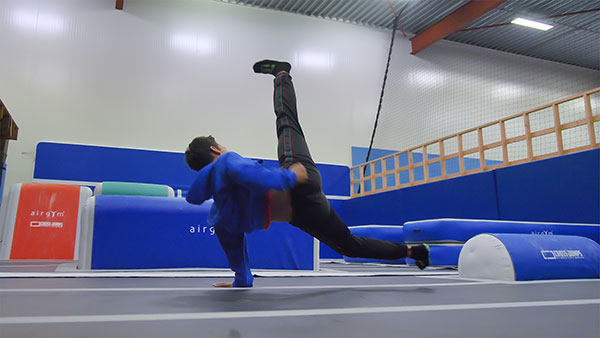 Attracting
new customer types
Adding Airtrack Park opens up the door for new tricks and activities which attracts a new type of customer: practicing athletes. Think of gymnasts, trickers, breakdancers, cheerleaders, dance acrobatics, tumblers and show performers.
Their skills and tricks normally don't translate well to the black bedding trampoline types that are used in most parks. With Airtrack Park they now have a reason to go to the park.
Safe & challenging
alternative
The biggest advantage of air filled material, compared to wooden freerun set-ups, is that there are no metal frames or wooded edges. So you are less likely to get injured if you fall on your back or knees. And the rebound provides an extra dimension because you can perform even more spectacular tricks.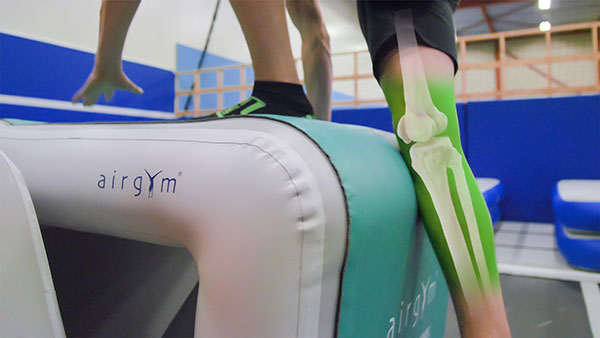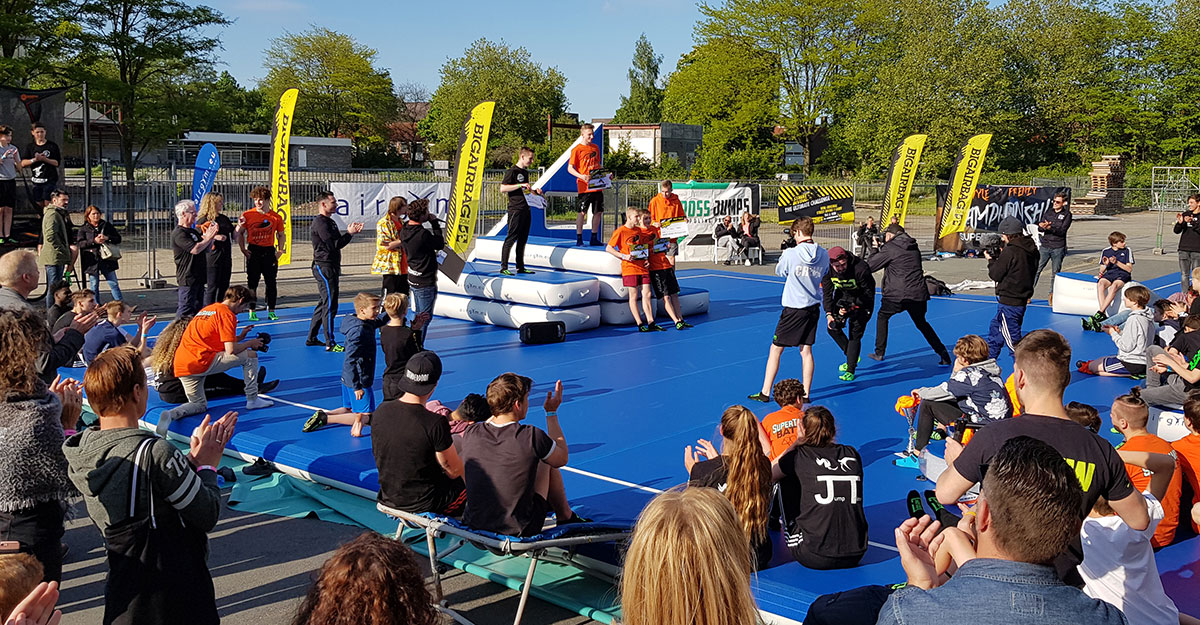 Flexibility
in physical placement
Compared to your wooden or steel structures Airtrack Park is transportable. The set-up can be moved from one side of the park to the other giving the facility a fresh look.
When deflated you can also bring the Airtracks to the towns annual event or festival to promote your park.
Covering sheets
for protection, play & branding
Special removable covering sheets are applied on top of the Airfloors surface and Air Tunnel blocks. These removable sheets provide an extra protection to the products surface, warranting a long termed use in these extreme environments.
By giving the sheets different colors they also function as an extra 'play & sports' feature and can be used for branding purposes.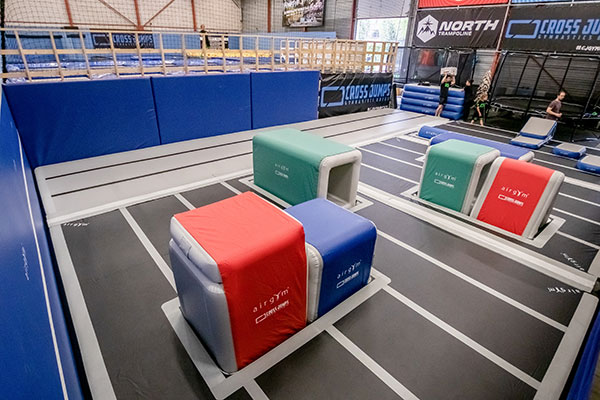 Your new standard baseline attraction
Airtrack Park can complement or even rival the main trampoline courts as a standard baseline attraction. It appeals to a wide base of customers and also accommodates a higher usage and faster through put compared to similarly sized attractions.
Airtrack Park is available as a base set but can also be customized in size, shape and color. With Airtrack Park being designed with modularity in mind you can also extend the set by adding additional Airfloors and other air modules all around.
WANT AIRTRACK PARK?
Airtrack Park is exclusively manufactured and patented by Airgym. Our Airgym experts are here to provide you with more information, answer any questions you may have and create an effective design solution for your custom needs.